The Covenant of Grace church website was re-designed by Five More Talents in early 2011 and launched on March 2, 2011.  Covenant of Grace is a growing Presbyterian church in Batavia, Illinois.
Pastor Jim Megchelsen of Covenant of Grace Orthodox Presbyterian Church (OPC) met Doug Vos of Five More Talents when both men attended an OPC  Regional Church Extension conference during the fall of 2009. Doug gave a presentation at that conference about how to maximize the effectiveness of church websites.
It took some advanced planning and budgeting by Pastor Jim and the elders at Covenant of Grace before they could initiate a project with Five More Talents to re-design the church website.  In the fall of 2010 plans came together and a small team began working on the new website design.
Historical Background and Web Design Case Study – Before and After Snapshots
Covenant of Grace registered the covofgrace.org domain name back in 2003 and their first website appeared on the internet back in December of 2003 – after a small group in the Fox Valley area began a Sunday evening Bible study with hopes of planting a church in the area.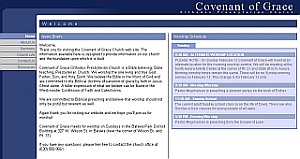 Looking back in time, using the Internet Archive's Way Back Machine, we can catch a glimpse of what the website looked like back in April 2004.
The old website continued with the same design through February of 2011. The old home page looked like the screen image to the left. The website was functional, with pleasant shades of blue and gray, however the "2003 style boxiness" was showing it's age.
The old homepage design had navigation tabs on the left labeled 'Home', 'About Us', 'Sermons','Church Life','Contact Us', and 'Resources'.
The new web design: