If you've read the first and second posts in this series, you probably have ideas about web templates, design, images, beauty, and structure zinging around in your head. Maybe you've figured out how to apply all that. Maybe you're still overwhelmed. Either way, here are some practical ways to put all the knowledge to use, one web page at a time.
Today we're going to talk about the immensely useful topic of page layouts. Once you know the basics of how to edit and put together a page using block editor, you'll be ready to start designing or redesigning your website with confidence. (If you want to learn more about how to create a beautiful website, you can watch the webinar here.)
Using Pre-existing Page Templates
If you are already using one of our church website packages, designing page layouts is simple. Select the page editing tab and click on "Page Attributes." The drop-down menu below "Templates" offers a wide selection of fully assembled templates for various purposes. You can quickly and effectively create spaces for a blog, sermon series, events, a homepage, child pages, and more. The main structure will already be in place, and all you have to do is fill in the blanks. Of course, you can also mix and match these templates to create something uniquely your own.
Block Editor
If you don't have the option of using a pre-existing template, you can create your own pages by combining and inserting "blocks." WordPress's block editor is an exciting new tool for quickly and easily adding elements. By clicking the plus symbol between existing blocks:
or the plus sign in the upper left-hand corner: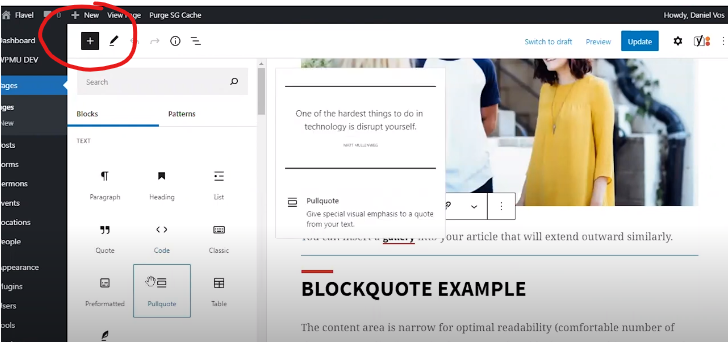 a list of possible blocks will appear. This can be as simple as a plain paragraph of text or as complex as a photo gallery. More options include quotes, images, buttons, calendars, and so many more.
Block Patterns
Use basic blocks for maximum flexibility. But for a faster way to assemble a web page, you can use block patterns.
These are essentially groups of blocks strung together. By selecting a few block patterns, you can quickly build a whole web page without having to make a decision on each individual block. To get to block patterns, click the plus sign in the upper left-hand corner and select the "Patterns" tab.
Putting It All Together
Now that you know how to assemble web pages, think about how the ideas you've learned from this post and the two previous posts fit together. You start either with a blank slate or with a website template. By using either pre-existing page templates or blocks and patterns, you can assemble page layouts. Edit and personalize those pages by inserting images. And finally, use the five elements of design throughout the process to make your website excellent. You have the ideas you need to make your website. Now go have fun!
If you want to learn more about creating a beautiful website, you can read Part 1 and Part 2 of this series or watch the webinar. To learn more specifically about WordPress block editor, you can read this post. And finally, don't forget to experiment on your own and enjoy the process!
Photo by Hannes Wolf on Unsplash